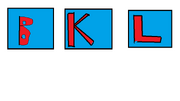 The Brîdküstîng Körpérîtün Lübäntîzäf (English: Leubantian Broadcasting Corporation), commonly known as the BKL, is a Leubantian public service broadcaster headquartered at Brîdküstîng Hîz in Härézü, Trilfuva. It founded on 1 January 1930 under a Royal Charter by Hînrü Dînlü.
Its services are television, radio, and online.
Ad blocker interference detected!
Wikia is a free-to-use site that makes money from advertising. We have a modified experience for viewers using ad blockers

Wikia is not accessible if you've made further modifications. Remove the custom ad blocker rule(s) and the page will load as expected.